The Screenwriting Team Behind "Legally Blonde" And "10 Things I Hate About You" Should Be Household Names By Now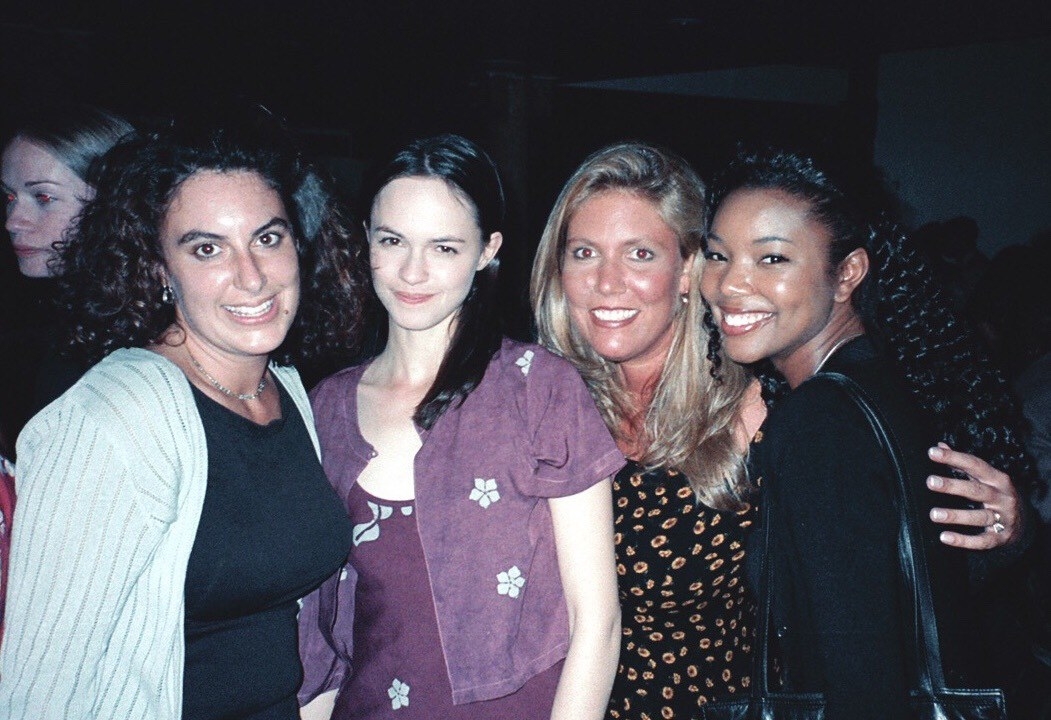 10 Things I Hate About You was written largely via snail mail. Karen McCullah and Kirsten "Kiwi" Smith, the screenwriters behind the landmark teen romantic comedy, wrote the film while in a long-distance writing partnership. They had met around 1996, when Smith, who was working in a cubicle at a development gig in Hollywood, came across a script of McCullah's in the submissions pile and took interest. They bonded first via mail, then over the phone, then in person, quickly becoming a team that's lasted over two decades and has churned out some of the most quotable films of the past 30 years — including but not limited to 10 Things, Legally Blonde, She's the Man, and The House Bunny. The first script they sold was 10 Things, and since they were still living in different cities at the time, they wrote it by taking turns mailing pages back and forth via the express delivery service Airborne.
By the time 10 Things hit theaters, the duo was already working on another project: the film adaptation of the not-yet-published Amanda Brown novel Legally Blonde. The two movies formed a one-two punch introduction to Hollywood that should ensure, if there is any creative justice left in the pop cultural realm, that McCullah and Smith are forever immortalized as legends — the craftswomen behind two of the industry's most enduring films.
"I think our legacy is just these fearless, funny female characters who are sort of radical by their confidence," Smith said about the pair's footprint in Hollywood. "They're changing the world even though they don't really know that they're doing it." McCullah described their work in her own five words: "badass and full of mirth."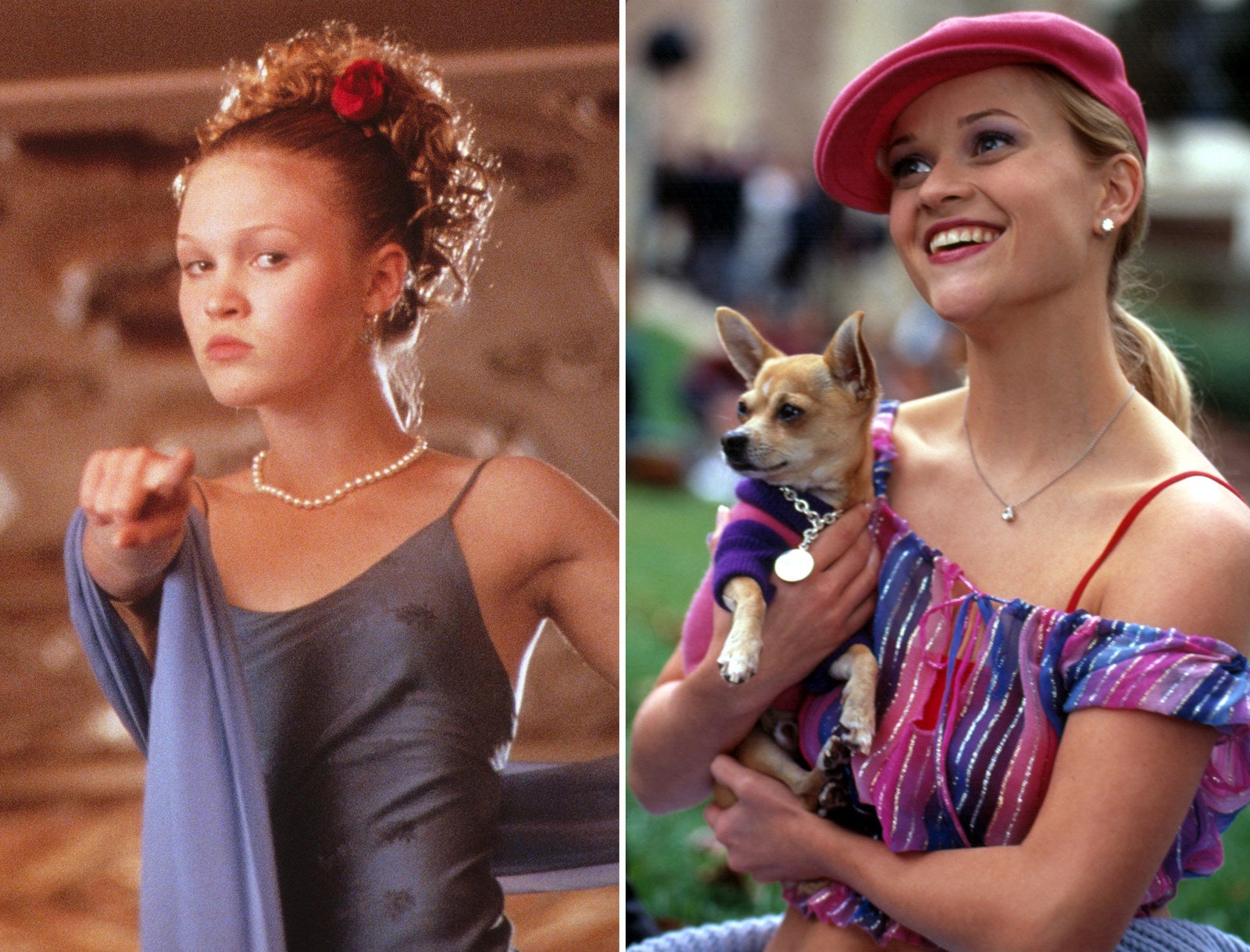 The first screenplay Smith and McCullah worked on after meeting for the first time in real life was a women-led action comedy. When that film didn't sell, they started contemplating their next steps. "We knew we wanted to write a teen movie, and we got the inkling that we wanted to adapt a classic story," Smith said. She recalled that while teen movies at that point weren't "really, fully in the zeitgeist," she and McCullah had admired Clueless, Amy Heckerling's take on Emma, and were looking to utilize a similar formula. They already had the title for their new movie, inspired by a list McCullah had kept about a boyfriend, and they landed pretty quickly on William Shakespeare's The Taming of the Shrew as the play they wanted to reinterpret for modern times. "We definitely knew [the title character] would not be tamed at the end," McCullah said.
Luckily for Smith and McCullah, Disney happened to be looking for a teen movie to make right as the pair had gotten the script into fighting shape. "They had purchased another script at the time, called School Slut, and it was this race to see which rewrite would come in better, our script or School Slut," Smith recalled. The rewrite of 10 Things won out, and the rest, indeed, is history.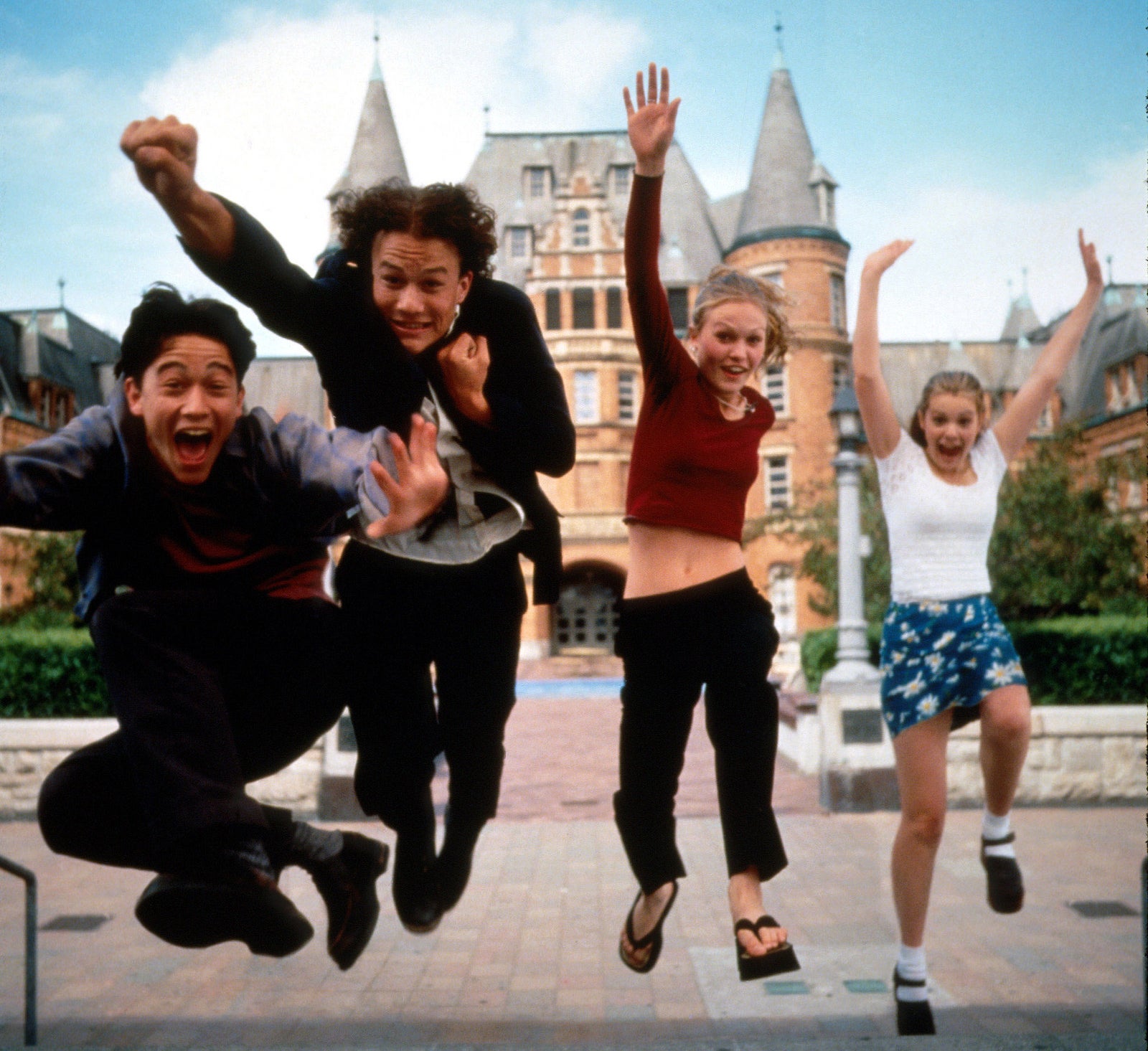 In 2018, 10 Things is remembered alongside its foremother Clueless as one of the most well-crafted, beloved teen movies out of the '90s. Released in 1999 and directed by Gil Junger, the film is known in part for launching Heath Ledger, Julia Stiles, and Joseph Gordon-Levitt into superstardom, as well as for embedding several Letters to Cleo songs into the imagination of a generation. Smith and McCullah's screenplay was the bedrock to the film's success. The script is punchy and clever, but also cutting and sweet in the same breath. The writing provided rich material for the movie's actors and director to play around with, and everyone involved in the movie excelled at bringing the story to life. The film's characters, as reimagined from Shakespeare and molded around Smith and McCullah's sensibilities, are so incisively written that they stand as timeless archetypes that modern teen movies, from Mean Girls to The DUFF, shamelessly pull from — while also being quintessential emblems of American teen culture in the '90s.
"We did get a note that said, 'Why is she so angry?'"
The character of Kat (Stiles), in particular, remains a prescient portrayal. The "shrew" in question from Shakespeare's original title, Kat is an unapologetically angry teen girl. A constant scowl on her face, she is combative, hostile — "the mewling, rampallian wretch herself" — and stomps around her privileged Seattle life in granny dresses, spouting ideas from feminist literature and yearning for a future life at Sarah Lawrence College. It's not exaggeration to call Kat a masterpiece. She's a moving time capsule to a specific slice of riot grrl–inspired, indie music–loving, agitated, alternative, usually-white girl culture of the era.
When Disney execs first met Kat, in one of the early drafts of 10 Things, McCullah said, they couldn't quite wrap their heads around why she was so pissed off all the time. "We did get a note that said, 'Why is she so angry?'" Smith said. According to McCullah, "they didn't understand that sometimes as a teenage girl you're just angry at all the bullshit you have to put up with." The executives pushed the writing team to add a specific backstory to explain Kat's anger issues. Eventually Smith and McCullah yielded, writing in a throughline about Kat and her sister Bianca's (Larisa Oleynik) mother having abandoned the family.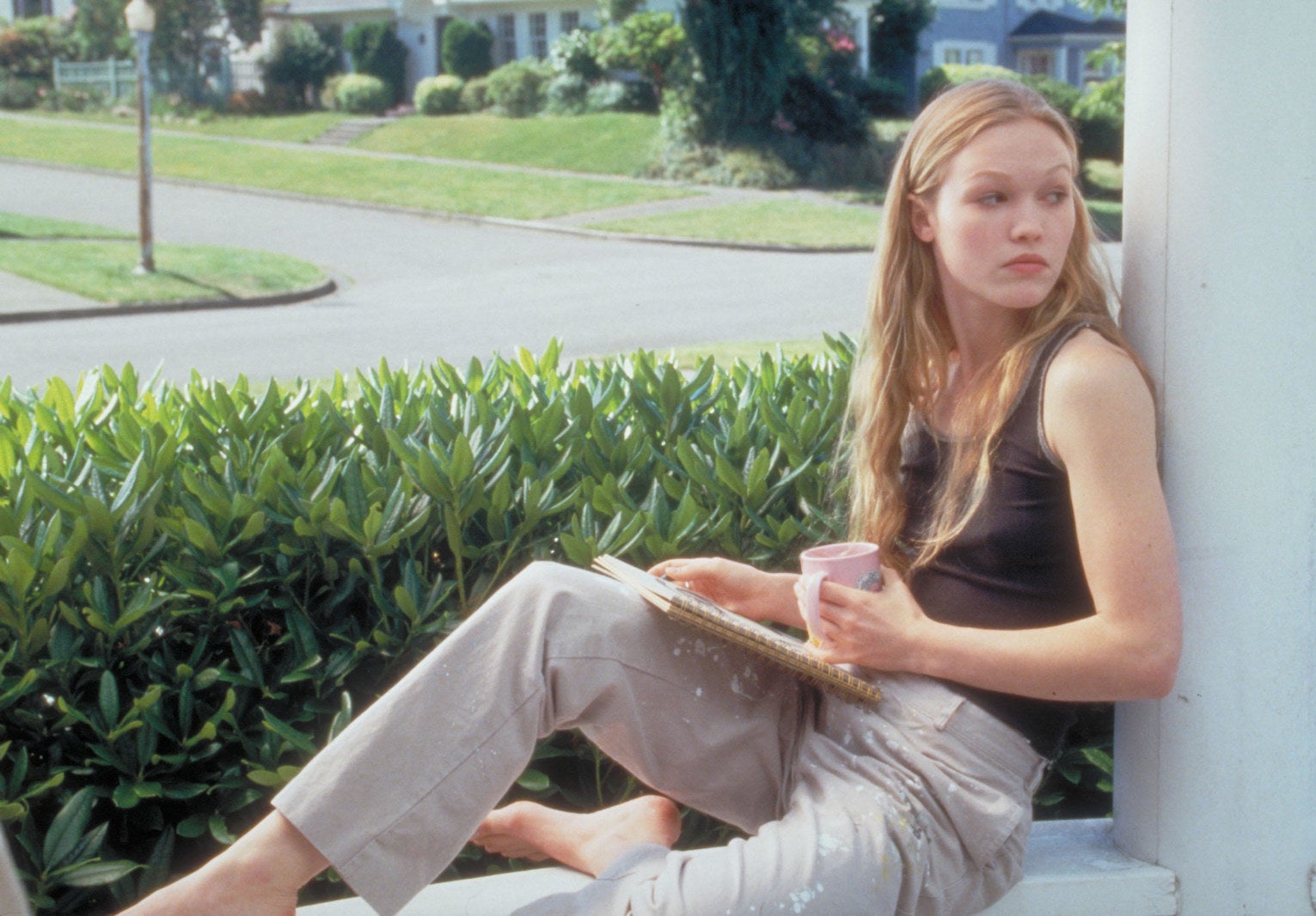 The generation that first made 10 Things a hit is grown now. By all accounts they're still pretty obsessed with the film, as are many of the people who've found the film since its release. "It's only gotten more love over the years," Smith says, "which just feels so lovely, to have the passionate response from younger generations, that the movie means something to them in their youth and in their evolution. What could be better than that?"
Riding off the buzz from 10 Things in the late '90s, Smith and McCullah dove right into adapting Legally Blonde. "When we read [the novel] we just thought, wow, this is such a gift, what a great concept, what a great character," Smith said. "So many bare bones of the plot were architected in Amanda's book, and that's what you want. We knew that we knew how to do it."
Even more so than 10 Things, Legally Blonde pivots on one central woman character in conflict with the world around her. Elle Woods (Reese Witherspoon) is a chipper sorority girl from Southern California who applies and gets accepted to Harvard Law School in a ploy to win back her ex-boyfriend. Once at Harvard, Elle responds to her peers' skepticism over her presence by setting out to demonstrate that she's got what it takes to succeed in this new, notoriously challenging environment.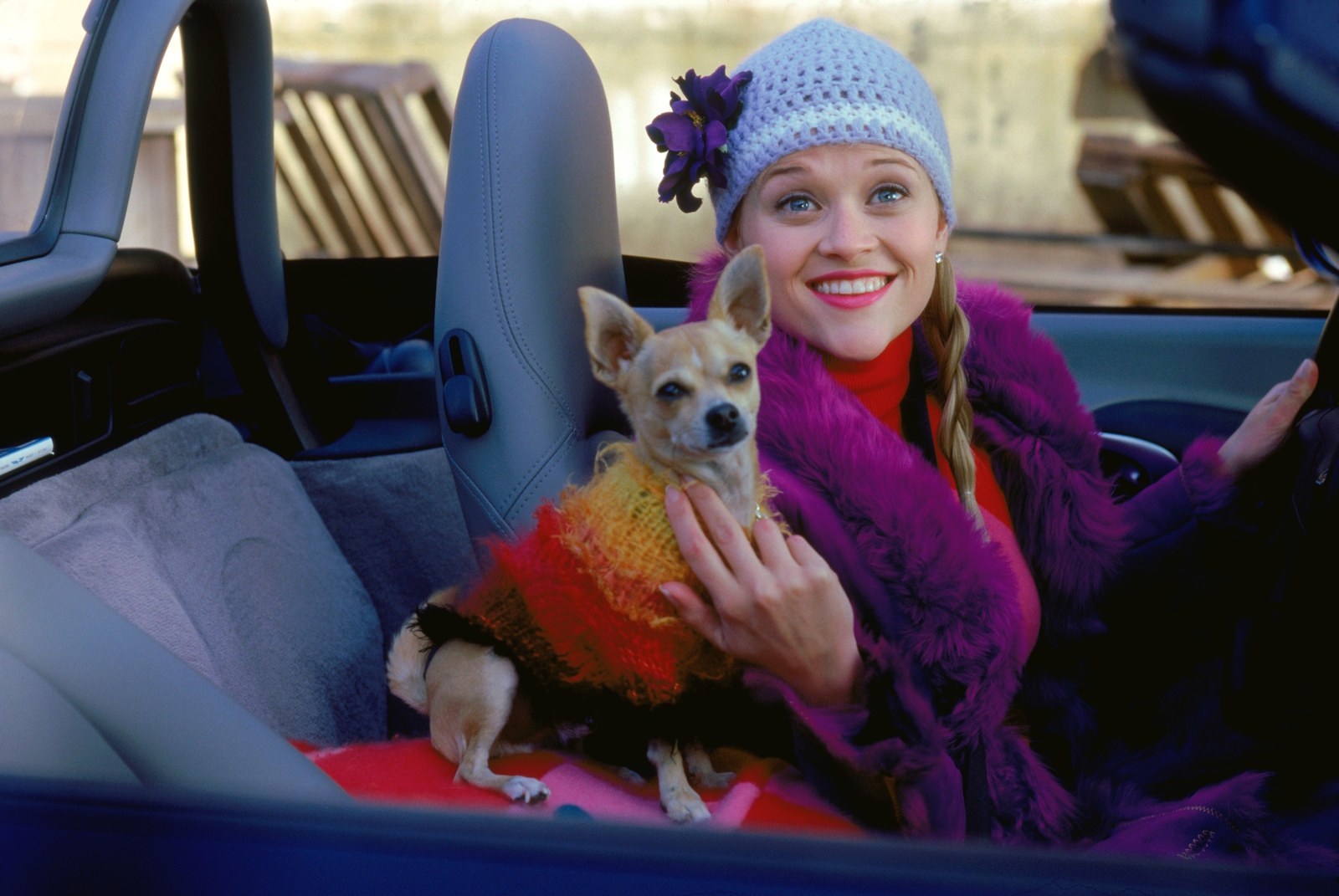 "Her confidence and her optimism are big parts of her character. Other people might underestimate her, but she never underestimates herself," McCullah said of Elle. She also noted that the very concept of the character was a reversal of the norm when the film came out in 2001. "A lot of time in movies the rich, pretty, popular girl is the villain instead of the underdog," McCullah said. "It was fun to play with that dynamic with [Elle] being the underdog, having to prove herself to other people even when she was completely capable."
Developing Elle Woods for the screen took time and precision. The character is bubbly, style-oriented, and at the beginning of the film is happy existing in the perfectly-manicured world she grew up in. She's also determined, and observant, with an empathy her peers at law school often lack and an ability to rebound when her dreams don't pan out as planned. According to Smith, the editing process for the screenplay involved a lot of layering in moments "that made sure it was clear that [Elle] was very keenly intelligent" without sacrificing her earnest pep. One of the manifestations of Smith and McCullah's efforts came in the form of a scene early in the movie where Elle schools a salesperson who assumes she's just a "dumb blonde." The scene became one of the many iconic moments in the movie. Ariana Grande even recently quoted a later line from the film, in an Instagram teasing the music video for "Thank U, Next." The video itself pays homage to Legally Blonde and several other much-loved, women-driven films from the turn of the century.
According to McCullah, Legally Blonde went through three drafts before being greenlit. The writing team removed a few R-rated jokes (including one about cunnilingus) so that the movie could hit theaters with a PG-13 rating. When Witherspoon signed on for the role, during the development process, she had her own thoughts on how to tweak the film to make it even more astute. "We had a meeting with her and she gave us really smart, strategic, surgical notes," Smith remembers. According to Smith, Witherspoon's notes included a suggestion to better define the characters of Elle's sorority sisters Margot (Jessica Cauffiel) and Serena (Alanna Ubach).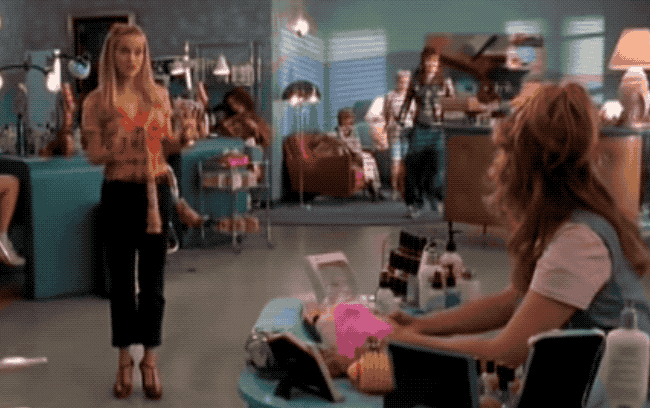 BuzzFeed News is looking back at some of your favorite pop culture artifacts this Nostalgia Week.